Figure Of Eight
Taken from Chapter 3 of
"Hooping"
An Instructional DVD by Peachysteve
The figure of eight is the most well known swinging move.
You will find this move in many fields, club and poi swinging, staff, baton, ribbon dance, sword skills etc.
The movement is largely in the wrist and involves making a circle on both sides of the body.

It helps to identify the leading edge.
This is less obvious with the hoop than with other props as it is a point about 30cms behind your hand.
Keeping your attention on your leading edge
start to move your arm foward, bringing the leading edge to the front.
As the edge comes to the front, start to bring it across your body.
You are aiming for your opposite foot.
Palm is facing down.
Swing the hoop past your feet.
Drawing out a circle across your body.
As the hoop reaches its peak,
start aiming back to the first side of your body.
Palm is facing up.
Draw a circle going forward and down.
You should now be back where you started.
Here you can see how the wrist rotates throughout the move.
Notice that the hoop is loosely gripped the whole time.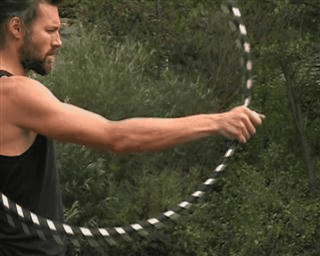 Here you can see how the hoop travels from side to side as you draw out circles with the hoop.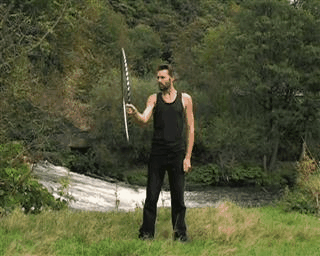 You can make these circles smaller so that the movement is isolated in the wrist. (see above)
You can make the circles larger so that the axis is your shoulder and your elbow remains locked throughout.
It's well worth practising the larger and smaller circles.
It's also worth working on this with both hands as you'll see in the next move.
Try it backwards as well if you can. I'll be looking more at that later.