Foot Circles
Taken from Chapter 5 of
"Hooping"
An Instructional DVD by Peachysteve
Taking the hoop down from your knee to your foot is very simple.
You replace the knee circle with a foot circle and the hoop falls into place.

Starting with the hoop on the knees.
I lift the foot of leg one just off the floor.
I make outward circles with my leg straight.
I start by circling forward...
Out to the side...

And back.
When you first learn this it helps to make larger circles, carrying the hoop around on your foot.
That can also be helpful if you are doing this on grass where there is a lot of friction.
As you get more comfortable you make smaller circles until it feels as if you just move back and forth.
Here you can see the foot circle in action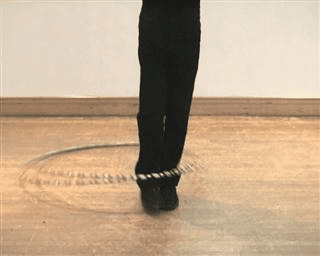 Once you have control with foot two, try foot one.
This time your foot goes backward to start an inward circle.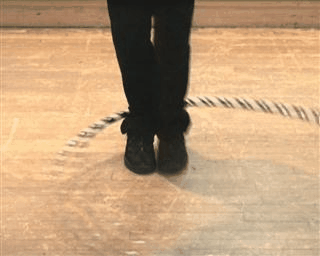 Once you have both feet under control you can try to alternate them.
This provides a good workout for your quads too.